Congratulations on the "Soon to be" arrival of your little one! If you are on this web page, you must expect your new, tiny family member. We've got the answer to your question! Whether you should go for the baby's crib or a co-sleeper, make sure to read through the whole article to find.
As soon as you receive the news that you expect a child, your mind automatically starts to plan everything. While it is exciting and fun to plan and shop stuff for your baby, it is overwhelming. Amidst all planning, one primary concern among new parents, especially if it's your first time, is where your baby sleep would.
When it comes to sleeping options, different families have their preferences. Some parents prefer room sharing with their newborns, others get a separate nursery, and some go co-sleeping. Depending on where your baby will sleep, you need to buy the right baby bed that assists both you and your baby's sleep.
Among the sleeping options for a baby, the two popular ones are co-sleepers and the traditional cribs. Each sleep strategy and the sleeping bed have its pros and cons discussed below. Let's take a look!
What is a Crib?
A baby crib is one of the oldest baby sleeping beds. According to Merriam Webster, a crib is a small bedstead with high enclosing and slated sides designed for newborn babies. Out of all the sleeping options for babies, the crib is considered the safest sleeping space. Both the consumer product safety commission and the American academy of pediatrics also recommend it secure for the baby to sleep in a crib.
People often associate cribs with infants. However, the truth is a crib is also an excellent toddler bed. Many parents' first choice of a sleeping device for their baby is a freestanding crib. Why? Whether you prefer to sleep in the same room with your child or a separate room, crib sleeping is ideal for both options. In fact, with either a freestanding crib or customizable crib, mothers can keep the baby close to themselves during their sleep.
Different Types of Cribs
Being the number one selling baby product across the globe, today, baby cribs are available in various styles, designs, shapes, and sizes. We have listed four of the most common and popular crib types below:
Traditional Crib
A rectangular crib with a standard size of 51 3/8″ – 52 5/8″ L x 27 3/8″ – 28 5/8″ is traditional. These cribs are designed for babies between 18 to 24 months. Just because it's traditional doesn't mean these are out of trend or inexpensive. When it comes to conventional newborn cribs, these are pretty expensive but long-lasting and have an excellent value for money. Usually, the traditional cribs require more space and are better suited in larger rooms or spaces. If you have an open nursery, a traditional crib would be perfect baby furniture.
Mini Baby Crib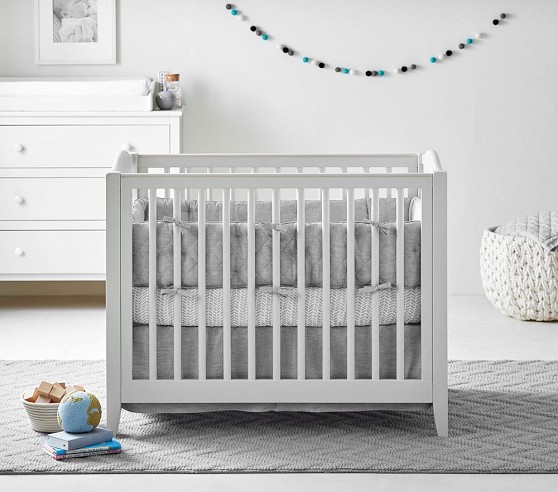 As the name indicates, the mini cribs are less spacious unlike a full-size crib. Although the shape of these cribs is also rectangular, the mattress size for such cribs is 24 inches wide and 38 inches long.
Round Crib
If you are looking for a luxurious and unique sleeping bed for your baby, then a round crib may be the perfect option for you. Due to its rounded design, this crib is not very common. Round cribs are the best sleeper bed compared to rectangular shape cribs, especially for growing babies. Due to style and size of the round crib, the babies enjoy more space to move around and play.
Convertible Baby Crib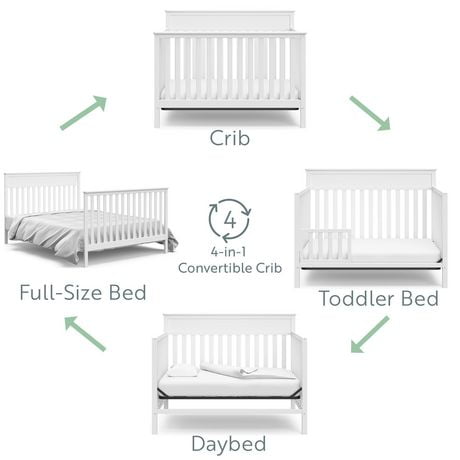 A convertible crib is usually the same as the traditional cribs, except size or height conversion. These cribs can be converted into a toddler bed for your growing baby. Another thing that distinguishes the convertible crib from a standard crib is the extensive and additional hardware like crib bumpers. This additional hardware assists you in transforming the newborn sleep bed into a toddler-safe sleeping option.
Our Top Picks for Baby Cribs
To make your search a little less hectic for you, we have researched some of the baby cribs for newborns and toddlers in 2022!
Pros
Crib meets the safety standards of the American Academy of Pediatrics and CPSC.
A crib reduces the risk of SIDS (sudden infant death syndrome).
The design is sturdy, stable, and long-lasting.
Available in a variety of styles, sizes, and designs.
Features soft bedding with a tightly fitted sheet makes it comfortable and safe for unsupervised nighttime sleep.
A crib is ideal for sleep training to develop healthy sleeping habits.
A crib is perfect for parents who want to keep their baby in their room or the nursery.
Cons
Due to size and dimensions, you may need a big and spacious room.
Cribs are heavy and hard to move.
It isn't very easy to assemble the crib parts and hardware.
You may need to get up and check the baby often.
What is a Co-sleeper?
A co-sleeper is just what the name suggests, a bed for your baby so you can rest together. Co-sleepers are made for babies up to six months of age. Many parents are fond of them because they are safe and excellent space savers.
A co-sleeper is more like an extension of your bed. You share the same bed with your baby in a more controlled & safe way, while they may have their own crib. If you prefer attachment parenting, then a co-sleeping bed is ideal for helping you develop a strong bond.
Moreover, it's a sigh of relief for breastfeeding moms. With a co-sleeping bed, the mothers don't have to fully wake up and travel to another room to feed the baby. According to AAP, both cribs and co-sleepers have no risk of SIDS. Additionally, a co-sleeping bedside sleeper doesn't pose the risk of crushing or suffocation for co-slept babies.
Different Types of Co-sleepers
Almost every item is manufactured into various styles and designs in today's world. That's true for the co-sleeping beds. In the market, you can find two main types of co-sleeping baby beds, that include:
Bedside Co-sleepers
A bedside co-sleeper is more like a bassinet or a crib. It comes with a side rail that can be lowered down to be attached to the side of your bed. With this sleeping aide, the mothers can easily access their babies. Bedside co-sleeping beds are baby safe and have little or no risk of SIDS, suffocation, strangulation, etc.
In-bed Co-sleepers
A bed-sharing co-sleeper, also often known as a baby lounger, is a sleeping device used in the adult bed. Unlike bedside sleepers, these co-sleeping beds come with side bumpers or raised edges that prevent crushing or bumping. At the same time, some parents use in-bed baby sleepers, the AAP and WHO don't consider them suitable for the baby's safety. In-bed cosleepers usually have a high risk of suffocation, strangulation, or SIDs.
Our Top Picks for Co-sleepers
Here is a video helping you choose which Co-Sleeper or Bassinet is best for your baby
Pros
A co-sleep bedside baby bed is convenient for breastfeeding mothers.
It eliminates the need to check up on the baby throughout the night.
It is best to create a strong bond and closeness between parents and babies.
Most co-sleep beds are highly functional and come with storage options.
Often the co-sleepers are size & height customizable.
Cons
Unlike a baby crib, a co-sleeping device is not for long-term use.
It's intended for babies under 12 months of age.
It develops unhealthy sleeping habits.
The babies often develop a negative association when sleeping in co-sleep beds.
Most co-sleeping bedside sleepers are not space-efficient.
Co-sleeping bedside sleepers are expensive.
FAQ
Co-sleeper vs. Baby Crib – Which is Safer?
Among all the baby sleep devices, crib mattresses and co-sleep beds are the safest options. Both meet the safety standard advised by the WHO and AAP. According to both organizations, the safest way for a baby to sleep is on their back, on a flat surface. As per professional medical advice, use any extra or loose bedding, heavy blankets, stuffed animals, or pillows when the baby sleeps. Keeping that in view, the co-sleepers and infant cribs are designed with tightly fitted sheet mattresses, without any bumpers that may increase the risk of suffocation or strangulation.
Are Moses Baskets a Crib or Co-sleeper?
Whether you are first-time or veteran parents, you must have heard about the Moses Baskets. Many people confuse the Moses baskets as a newborn's crib or co-sleeping device. Some may also refer to it as a baby bassinet. In reality, it's neither the newborns' sleep bassinet, crib, nor a co-sleeping bed.
A Moses basket creates a safe sleep surface for babies on the floor. Often the parents use this baby basket while they are in their living room, visiting someone, or going to the beach or park. While these baby baskets use soft bedding for a newborn, they are not ideal beds for a baby to sleep in. The Moses basket doesn't meet the baby sleep safety standards. The soft sides of the baskets increase the risk of SIDs and suffocation in newborns. It is recommended for the parents to use Moses' basket only for supervised activities.
Baby Crib or Co-sleeper – What Should You Get?
There is no clear-cut answer to that! Both crib and co-sleeper have their advantages and drawbacks. However, they both create a safe space for your little one to not only sleep but also move around and play. When selecting a sleep device for your newborn or toddler, some factors come into play. Always choose a newborn sleeping bed depending on your sleeping arrangement, preferred feeding method, the room's space, functionality, and how long your baby can benefit from it.