An excellent, modern mom isn't one who hasn't uploaded an image of their child snuggled up in a nest cushion to Instagram or Facebook, Just stating the obvious.
Some of us may not be interested, but even if you're not, baby loungers can be helpful throughout the first several months of a child's life. Babies can use it as a safe, comfortable place to play and rest. Overall, the design of baby loungers or nests is excellent in keeping babies peaceful and content.
The Snuggle Me Organic and the DockATot are two popular baby loungers. While you're out and about, they'll make a cosy nest for your young one. What's the best?
I recommend the Snuggle Me Organic for newborns and babies to ensure a baby's safety and comfort. As soon as a baby is born, they are accustomed to the womb's soft, enveloping support. This vast, open world can be scary and weird, which is why babies like to be held and swaddled when they are out in the world.
We'll now compare them side-by-side. But first, here are some crucial details to keep in mind about your safety.
What You Need to Know About Baby Loungers and Sleep
Once upon a time, parents relied on padded loungers like the Snuggle Me Organic and the DockATot to help them get a good night's rest. While mom and dad slept soundly, the babies had a cosy place to cuddle up in.
In contrast, the American Academy of Pediatrics, the Consumer Product Safety Commission (CPSC), and Health Canada stated that using any sort of baby lounger in an unsupervised manner is a concern. The elevated sides of the lounger could suffocate the baby if they roll over or turn to one side. Not to mention how many babies rolled out of their nests or fell from a bed.
New guidelines specify that babies should never be left alone in padded nests or loungers and because you are (ideally) dozing off while co-sleeping, it leaves your little one in the dark and at risk. Therefore, utmost caution is advised when utilising these padded loungers to share a bed with another person. If you prefer to use the pillow for co-sleeping, Snuggle Me Organic does not promote it, whereas DockATot offers safety rules that it recommends following if you choose to do so.
Similarities
Solution to Sleep
Co-sleeping appears to be a hot topic these days, with some looking for a safer option while others simply want to get their child to sleep better at night. Everyday life and a good night's sleep might sometimes conflict with the needs of the camps.
The Snuggle Me and the DockATot have a lot in common regarding their initial purposes, which were both to facilitate safe co-sleeping and short naps.
Each one is meant to keep the infant safe and secure while sleeping alongside their parents. To keep babies from rolling onto their backs or getting tangled up in blankets or pillows, these raised-up sides create a separate sleeping area for them.
Concerns have been made that newborns could roll over and become suffocated by elevated sides. There are specific concerns with co-sleeping, especially for older babies with some motor abilities.
Its design makes it a superior choice if you intend to use the DockATot for co-sleeping. It's also a little bigger, so there's a little more room between the high sides and the infant. Additionally, Snuggle Me advises against using their pillow for co-sleeping, following the advice of the experts.
Even if you don't plan on using a lounger for co-sleeping, both of these gadgets can assist your baby to have a good night's sleep. A hug-like embrace will make the baby feel like it's still in mom's arms, allowing it to sleep for more extended periods (supervised, of course).
High Rated
Regardless of which one you choose, both of these loungers are sure to please both you and your little one. Amazon customers have given Snuggle Me an average rating of 4.5 stars out of 5 stars.
4.6 out of 5 stars are assigned to the DockATot by BuyBuyBaby customers, based on more than 300 reviews.
Washable and Reusable 
You can easily wash the covers off of both of these loungers. Replacement covers are also available in a wide range of colours.
Differences
Not Hugging vs Hugging
In my opinion, the Snuggle Me's embracing movement is one of the most noticeable contrasts between the DockATot and the Snuggle Me. You may rest assured that your baby will be safe and secure because of its unique centre-sleeved design, which cradles the child snugly. Not following DocATot's design
Difference in Material
Different fabric variations are available for the Snuggle Me, while all variants are machine washable and manufactured in the United States.
In contrast, the Snuggle Me Original is made entirely of synthetic materials and contains no organic components. Instead, the cover is usually cultivated cotton, and the polyester content is virgin.
The Snuggle Me Organic includes an organic cotton cover and virgin polyester stuffing.
The Snuggle Me Wool edition features an organic cover and filling made from natural materials. Note that the stiffness of the sleeper is a little altered by this method of adjusting.
There are no organic textiles available for the DockATot, but it is made entirely of Oeko-Tex® Standard 100 Class 1 certified components.
Different Sizes are Available
There is only one size available for the Snuggle Me, which is for newborns between the ages of zero and eight months.
Different sizes of DockATot are available for purchase. There is a DockATot Deluxe and a DockATot Grand for newborns ranging from 0 to 36 months. If you are looking for a long-term solution to keep your baby safe and comfortable, the Grand is for you. The Grand measures 39 inches wide by 39-47 inches long when closed, and the Grand measures 47 inches wide by 39-47 inches long when open.
Characteristics of  DockATot
Materials used in the DockATot are hypoallergenic and allow for airflow. All of the materials are washable as well. To fulfil European Oeko-Tex Standard 100 Class 1 norms, all DockATot parts are certified. DockATot users report that their infants love how cosy and secure it is. Be aware that some parents have seen their babies sweating more than usual.
Swedish inventors came up with the idea for the DockATot (like so many other excellent things, including Ikea). It's a European product. As a result of its global reach, it enjoys a sizable fanbase both in and outside of the United States.
Both the DockATot Deluxe and DocATot Grand are designed for infants ranging from birth to 36 months.
DockATot Deluxe is 18 inches wide by 29-34 inches long [29 inches closed, 34 inches open]. It is 24 inches wide by 39-47 inches long [39 inches with clasps closed and 47 inches available] with the DockATot Grand's clasps open or closed.
In a co-sleeping setting, the DockATot can be used to supervise tummy time for a baby who is sleeping on their back.
This product is not advised for use in a crib or pack and play, which is not a surprise. Belly sleeping should be avoided if at all possible. A flat, sturdy surface is required for the DockATot.
For napping, practising tummy time, relaxing, or simply providing a comfortable surface for your baby or toddler to play on, the DockATot is the perfect solution. If you need to move the DockATot from room to room, you can use the built-in handles to do it.
Characteristics of Snuggle Me Organic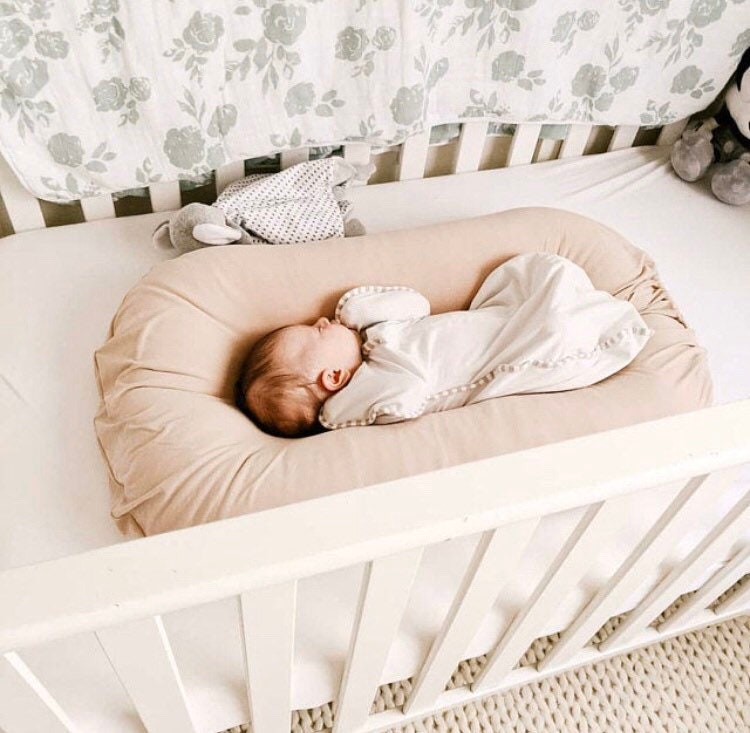 Unpadded slings form the centre of the Snuggle Me lounger's design. This accomplishes a slew of goals all at once. If you're going to be strapped in, you're going to want to make sure that your sling cloth rests on something solid (which should be very flat and firm).
It also encourages the infant to lie on its back by pulling the sides toward them. Sleeping on your belly on the Snuggle Me lounger is not suggested by the American Academy of Pediatrics; only sleeping on your back is recommended.
Since the Snuggle Me is so cosy, it's excellent for babies aged 0 to 6 months, but older children can still enjoy it. A baby's urge for closeness diminishes as they get older and prefers a little distance. Alternatively, parents can gradually wean their children off the Snuggle Me by stretching them out of it as they get older.
The Snuggle Me's mobility is one of its best qualities. Depending on the baby's age and movement, you can use it on a bed, couch, or floor.
While on vacation, it can also be taken to the babysitter and grandma's place. A familiar sleeping surface in a new environment allows a baby to sleep happily. To make this possible, the Snuggle Me includes a travel bag.
The Snuggle Me Organic Lounger has an organic cover and a virgin polyester fill with no flame retardants or chemicals. Snuggle Me is also available in the original edition, consisting of conventionally cultivated cotton and pure polyester fill.
According to the producer, all materials are created or farmed in the United States, and everything can be washed in the washing machine.
Size-wise, the Snuggle Me is 27′′ tall x 18′′ broad, making it a decent-sized footprint.
Several people have reported success with the Snuggle Me as a co-sleeping device. Additionally, parents can use it to have fun with their children or to have their infants with them everywhere they go.
Also perfect for tummy time, the Snuggle Me helps the infant learn to control their head and neck. The Snuggle Me has also been shown to be beneficial in treating reflux by its users. Having a surface that elevates the baby's head is a lifesaver for all three of my boys who suffered reflux as infants.
The Snuggle Me is backed by a 30-day money-back guarantee. Send it back if you or your baby don't like it.
Video Comparison Review
Snuggle Me Organic vs DockATot FAQ's

Is it OK for a baby to sleep on their side?
A baby should not be placed in a supine position until they can roll effortlessly from their back onto the stomach to their back again.
Is DockATot grand safe to use on newborns?
Only utilize a baby lounger for babies under nine months, such as a DockATot or Snuggle Me.
Does the organic snuggle me fit in a Moses basket?
If the basket is 29×18, the newborn lounger will fit. Regardless of whether your baby is in a SnuggleMe basket or not, you must always keep an eye on her.
When may I stop swaddling my child?
When your baby can roll on his own, this milestone is reached between the ages of 2 and 6. You know it's time when your baby can remove his arms from the swaddle. The days of swaddling her may be over if she entirely unwraps herself. For an infant, swaddling helps prevent an accidental roll to the stomach, resulting in asphyxia. Thus it's worth it.
Is it possible to wash the Snuggle Me?
If you're using a dryer, be sure to use a low setting before putting your lounger or cover in the machine to avoid overheating. A custom-made liner can be used between the sofa and shelter for those who don't like washing their loungers as often.
Are Snuggle Me or DockATot safe for newborns to sleep in?
Yes, as long as you're paying attention. Although these devices were meant to be used as co-sleepers, the credible authority has advised against doing so.
In a crib, can You use Snuggle Me or DockATot?
Neither Snuggle Me, nor DockATot should be left unattended. Snuggle Me should never be left alone with your infant or placed in Snuggle Me while you sleep. Baby will feel safe and secure in Snuggle Me while you enjoy your favorite show.
My Recommendations
With its embracing motion, this product is ideal for newborns and babies, in my opinion. A swaddled baby is an attractive solution for the first six months or so of a baby's existence.
I can see the DockATot as a viable option when the infant is older. Using the DockATot, toddlers may transition from the confines of a crib to the openness of a full-sized bed.